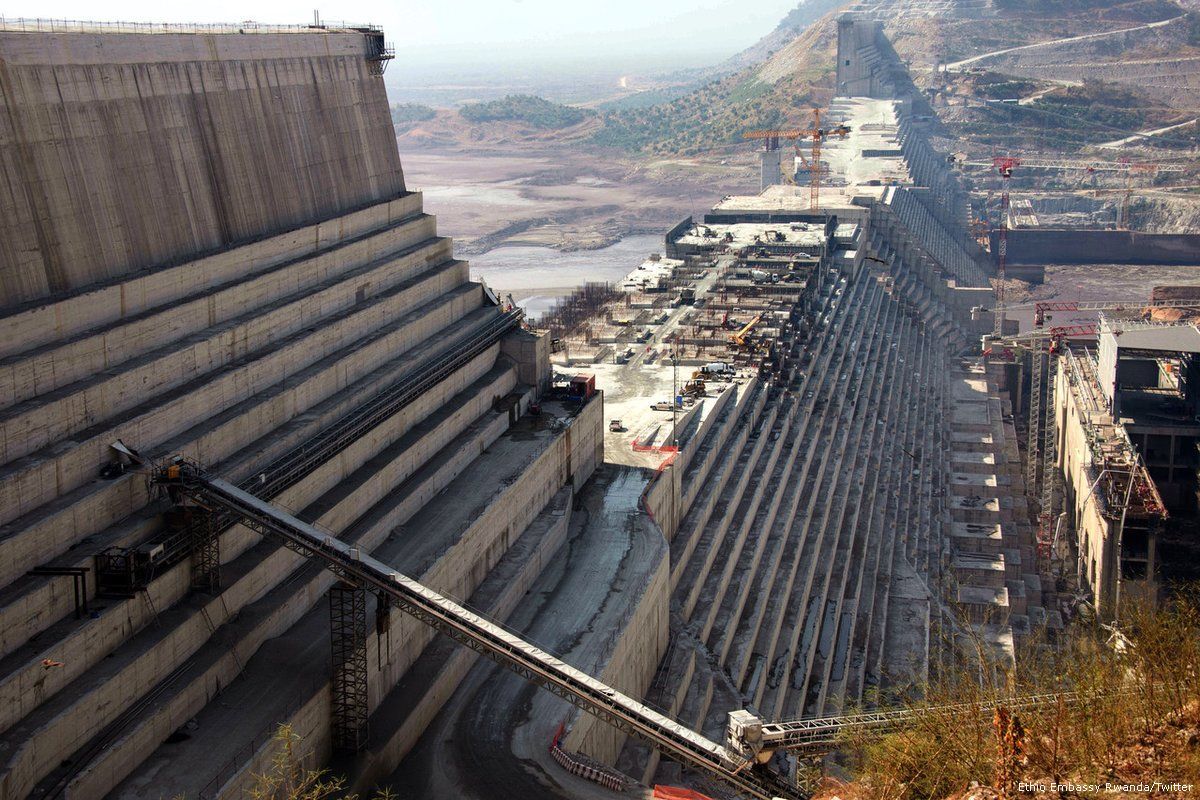 The ongoing Sudan-mediated negotiations on the Grand Ethiopian Renaissance Dam (GERD) have stalled due to Ethiopia's continuous intransigence, Egypt's Ministry of Water Resources and Irrigation said Saturday.
Irrigation ministers from the three countries started the Sudan-mediated talks on June 9 via video conference in the presence of international observers, including the United States, the European Union, South Africa, and the president of the African Union.
Saturday is scheduled to be the last day of these negotiations.
In statements to reporters, ministry spokesperson Mohamed al-Sebaay stated that he is not optimistic about any breakthrough or progress.
Ethiopia's hard-line stance has been evidence during the current meetings taking place between water ministers from Egypt, Sudan and Ethiopia, he said.
Sebaay added that Egypt has showed much more flexibility during the talks and accepted a compromise prepared by Sudan, which would serve as a basis for negotiations between the three countries.
However Ethiopia chose to submit its own proposal on June 11, detailing its vision for the rules for filling and operating GERD which were faulty both technically and legally.
This proposal, rejected by both Sudan and Egypt, only reaffirms that Ethiopia lacks the desire to reach a fair agreement on the dam, Sebaay said.
He added that Ethiopia's proposals showcases Addis Ababa's intention to solely control  transboundary water resources with no regard to the rights and interests of the downstream country that share it.
Ethiopia hopes a non-binding paper will be signed which will see the downstream countries give up their water rights and recognize Ethiopia as holding the unconditional right to use the Blue Nile's waters unilaterally, operating the GERD according to its single vision, he explained.
Sebaay added that the Ethiopian proposal seeks to cancel all agreements and understandings reached during the GERD negotiation which have spanned nearly a full decade, including agreements reached during the previous round of talks in Washington featuring participation from the US and the World Bank.
Ethiopia's proposal provides no guarantees to secure the downstream countries during prolonged droughts, he warned, and provides no protection for any negative consequences arising from filling and operating the GERD.
Sebaay said that this proposal only feeds into Ethiopia gaining an absolute right to change its GERD filling rules unilaterally to generate its electricity and meet its water needs, without paying the slightest attention to the interests of the downstream nations.
Ethiopia's stance is one based on forcing Egypt and Sudan to either sign a document that puts them at the mercy of Ethiopia's whims, or to accept that Ethiopia will just take its own decisions, such as beginning the process to fill the GERD without prior agreement from the downstream countries, Sebaay said.
Slamming Ethiopia's position as unfortunate and unacceptable, Sebaay added that this goes against the spirit of cooperation and friendliness which should prevail between African nations and those that share international water resources.
Edited translations from Al-Masry Al-Youm