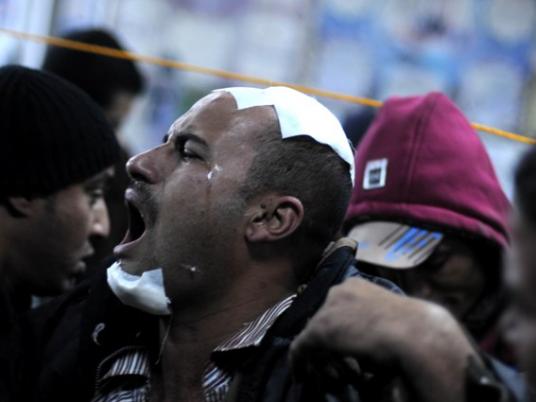 The Tahrir Doctors Society, a group of volunteer doctors who treat injured protesters during clashes, has said that preparations by the Health Ministry for Sunday's protests against President Mohamed Morsy are insufficient.
Mohamed Fattouh, head of the Tahrir Doctors Society, chastised the ministry for failing to direct hospitals to receive the injured in case of clashes between Morsy's supporters and opponents.
In a statement issued by the society on Friday, Fattouh said that those who attack other citizens do not support the revolution, the country, or Islam, which prohibits murder and demands that people and properties be protected. He expressed his outrage at the deaths and injuries of protesters during clashes that erupted across the country over the past few days.
He added that the society has organized several workshops to train doctors in Cairo, Giza, and Sharqiya on how to deal with common wounds and manage medical crises. More than 120 volunteers attended, Fattouh said. Medical equipment and tools were provided thanks to donations by society members and others, in coordination with several revolutionary and political groups.
Fattouh told Al-Masry Al-Youm that the society will set up six field hospitals, three of which will be at the presidential palace, one in Moqattam, one in Zagazig city, and one in Tahrir Square.
He said that the ministry had announced that they would provide equipment to the Ain Shams Specialized Hospital, but not to other hospitals such as the Nasr City Hospital for Medical Insurance or hospitals in Mansheyyet al-Bakry or Heliopolis, all near potential hot spots. He added that this was proof that the ministry was not properly prepared.
In a previous statement, the association held President Mohamed Morsy responsible for what it called a "National Schism" in the Egyptian street and called on him to make up for his errors, noting that the positive response of millions of people to the Tamarod campaign is a sign of growing discontent against him and the Muslim Brotherhood.
Edited translation from Al-Masry Al-Youm