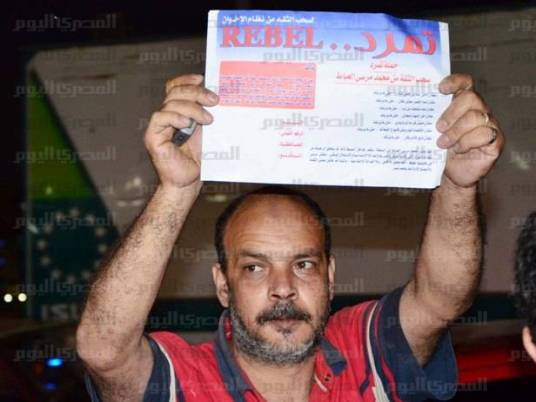 The Tamarod campaign has launched the 30 June Front, a body which includes a number of youth movements and political parties, to manage the transitional period that would follow the departure of President Mohamed Morsy.
At a news conference on Wednesday, the campaign, which is collecting signatures to demand early presidential elections, announced the members of the front, which include Ahmed Doma, Israa Abdel Fattah, Yousef al-Husseiny, and Shadi al-Ghazali Harb.
It also said demonstrations should be peaceful in all parts of the country.
"Morsy has reneged on all his promises, failed to meet the minimum aspirations of Egyptians, and continued subordination to the West," said campaign spokesperson Mohamed Abdel Aziz.
Projecting the future after Morsy, the front said that the president of the constitutional court would act as president of the country, the Shura Council would be disbanded, a new constitution would be drafted by a committee of scholars and jurists with legislative powers, and a prime minister would be granted full powers provided that he participated in the revolution and that he would not run in the first presidential or parliamentary elections.
The campaign would charge the new government with developing an immediate plan to rescue the economy.
The transitional period would not exceed six months, after which presidential elections would be held under international and judicial supervision, to be followed by parliamentary elections.
The campaign called on all citizens to take to the streets on 30 June and demand the departure of Morsy.
Edited translation from Al-Masry Al-Youm