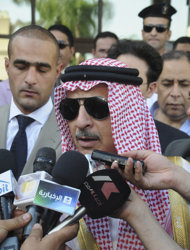 Military ruler Field Marshal Hussein Tantawi has met with the Saudi ambassador to Cairo, shortly after a diplomatic spat over an Egyptian lawyer arrested by Saudi authorities.
During the meeting with Ahmed al-Qattan, Tantawi expressed Egyptians' appreciation of the Saudi leadership and people, and highlighted the deep relations between the two countries.
Tantawi thanked Saudi King Abdullah bin Abdulaziz for being keen on supporting the historic Egyptian-Saudi relations.
Meanwhile, Qattan expressed Saudi appreciation toward the Egyptian leaders and people and hopes of progress and stability
The two countries are trying to mend relations following the diplomatic rift. Riyadh had recalled its ambassador to Egypt over street protests against the lawyer's arrest.
The envoy returned to Cairo Saturday after a large parliamentary delegation from Egypt visited Riyadh last weekend.
On Sunday, Saudi Foreign Minister Prince Saud al-Faisal met with Mourad Mowafy, the Egyptian intelligence chief, who was on a brief visit to the kingdom.
Edited translation from MENA