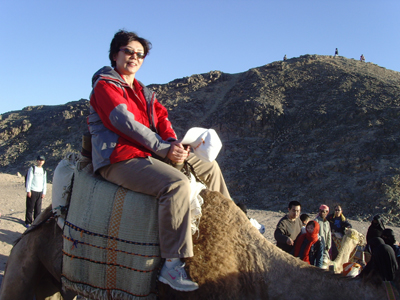 Nasser Abdel Aal, the former minister of tourism's consultant on Asia, has said that Egypt's tourism sector is aiming to achieve a target of 1 million Chinese tourists per year within the next five years.
The number of Chinese tourists visiting Egypt each year has grown at an unprecedented rate, Abdel Aal told Al-Masry Al-Youm.
A typical growth rate for tourists of a certain nationality to any country is about 3-4 percent annually, he said. But Egypt witnessed a 20-30 percent increase in Chinese visitors last year, suggesting a boom is in progress.
Abdel Aal revealed that the number of Chinese tourists visiting Egypt so far in 2016 is around 170,000, which is 80-85 percent more than for the same period in 2015.
He predicted that by the start of 2017, that number will have increased to around 200,000.
However, so far, it is not clear whether the stated five-year target of 1 million Chinese visitors is an official government target, or merely a number favoured by industry figures.
Egypt and China have been enjoying a smooth political relationship of late, including improved social relations, Abdel Aal said. He explained that China is an economic superpower with a great vision where economic growth is concerned, and that so far, the Chinese government has displayed a great willingness to work with Egypt.
Chinese tourists spend an average of US$92 per day while in Egypt, said the consultant, and they are more interested in historic and cultural destinations, such as monuments and historic quarters in Cairo, Luxor, Aswan and Alexandria, cities that have seen reduced tourist numbers since 2009.
Chinese tourists are also likely to boost business in the Red Sea region and Hurghada, with many interested in leisure pursuits, such as water sports and desert safaris. The average age of Chinese visitors is 35-40, meaning many are still seeking physically demanding holiday activities.
At present, charter flights connect Egypt with four different Chinese cities, making the trip between the two countries relatively simple.