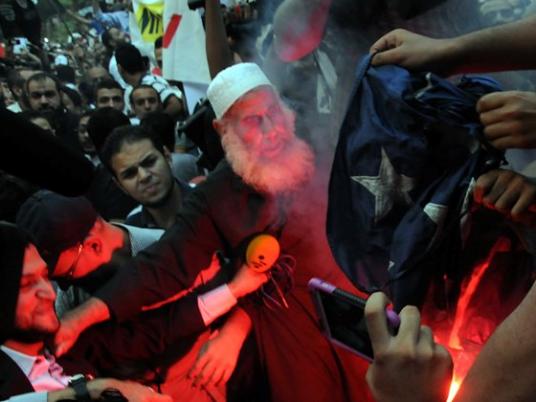 The Nasr City Misdemeanors Court decided Sunday to postpone the case of a prominent Salafi figure accused of blasphemy aganst Christianity until 14 October.
The defendants in the case are Ahmed Abdullah, known as Sheikh Abu Islam, head of Salafi-oriented Umma satellite channel; his son Islam, the executive director of the channel; and Hani Yassin Gadallah, reporter at the privately-owned Al-Tahrir newspaper.
They face charges of blasphemy and destroying an English-language copy of the Bible in front of the US Embassy in Cairo.
During Sunday's court session, Central Security Forces intervened to stop arguments between supporters and opponents of Abu Islam.
The prosecution received several reports accusing Abu Islam of contempt for Christianity because of his statements to Gadallah, published in Al-Tahrir newspaper.
Abu Islam and his son also allegedly ripped apart and burned a Bible in front of the US Embassy during protests over a movie produced in the United States that is considered offensive to Islam. The film sparked angry demonstrations in several countries.
The prosecution reportedly received photos and videos showing the defendants destroying the Bible.
Abu Islam admitted in a statement to Al-Masry Al-Youm that he tore and burned the Bible, explaining that what he burned was the holy book of the West. He said that he did so in response to offenses against Islam, including the "dirty, ugly film," as he put it.
Edited translation from Al-Masry Al-Youm