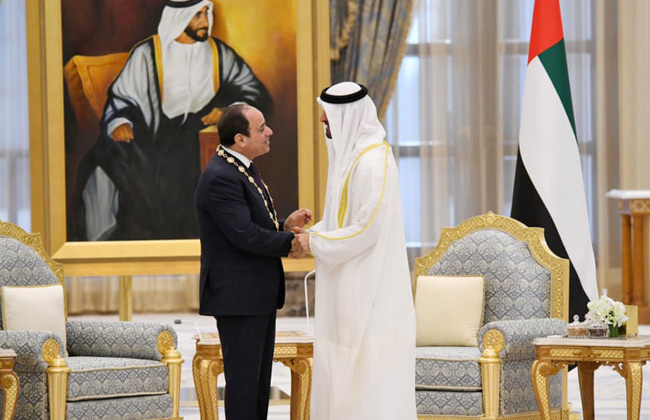 The Crown Prince of the Emirate of Abu Dhabi Mohammed bin Zayed al-Nahyan awarded Egypt's President Abdel Fattah al-Sisi the Order of Zayed on Thursday during the president's official visit to the UAE to discuss security and economic cooperation, according to Egypt's Presidential Spokesperson Bassam Radi. 
The UAE and Egypt also launched a $20 billion investment platform for economic and social projects during the visit, according to a Thursday statement on Twitter by the Abu Dhabi Crown Prince.
The Order of Zayed is considered the UAE's highest civil decoration and is named after Prince Zayed bin Sultan Al Nahyan.
Radi stressed that the Order comes in recognition of historical ties between Egypt and the UAE and signifies Sisi's ongoing role in strengthening bilateral relations across various fields.
The UAE typically awards the Order to individuals for faithfully performing their duties while serving the armed forces in the following positions: Deputy Supreme Commanders, Ministers of Defense, Undersecretaries of Defense, Chiefs of Staff, Deputy Chiefs of Staff, Military Commanders and civil servants. 
Sisi joined a long list of global leaders and prominent individuals who had previously been awarded the Order, including Crown Prince of Japan Naruhito in 1995, the 8th president of FIFA Sepp Blatter in 2003, Crown Prince of Qatar Tamim Bin Hamad al-Thani in 2005, King of Bahrain Hamad bin Isa al-Khalifa in 2005, Emir of Kuwait Sabah al-Ahmad al-Jaber al-Sabah in 2006, President of Turkmenistan Gurbanguly Berdimuhamedow in 2007, President of Pakistan Pervez Musharraf in 2007, and President of Russia Vladimir Putin in 2007.
President of Lebanon Michel Suleiman, Queen of the United Kingdom Elizabeth II, King of Morocco Mohammed VI, King of Saudi Arabia Salman bin Abd al-Aziz al-Saud, and Prime Minister of Ethiopia Abiy Ahmed have also received the Order. 
Sisi travelled to the UAE on Wednesday for a two-day visit to discuss Egyptian-UAE relations, opportunities for economic cooperation, and regional security with the Crown Prince. Egypt and the UAE enjoy a strong economic and political relationship that developed after President Sisi gained power in 2013, and the UAE has offered considerable financial support to Egypt.
Edited translation from Al-Masry Al-Youm