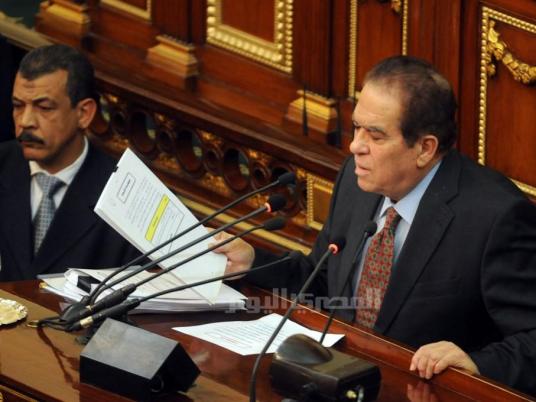 Parliament on Sunday will discuss the NGO funding case and circumstances around a decision to lift the travel ban on foreign citizens accused in the case.
Prime Minister Kamal al-Ganzouri excused himself from attending the session, instead delegating seven ministers, including those of planning and international cooperation, interior, justice, and local development, to attend on his behalf.
During a meeting with members of Parliament's general committee yesterday, Speaker Saad al-Katatny discussed calls by some parties and MPs to withdraw confidence in Ganzouri's government, parliamentary sources said.
While some MPs said Ganzouri's cabinet has failed to address several pressing issues, others said there was no need to rush the removal of a government that will leave power soon anyway.
The decision to lift the travel ban imposed on foreign suspects charged in the NGOs case, in which 43 NGO workers face charges of illegal funding and intent to intervene in Egyptian affairs, sparked public anger as the move was seen as an infringement of the law.
Politicians, led by the Freedom and Justice Party, called for withdrawing confidence in Ganzouri government.
The same sources said some FJP leaders are opposed to a possible motion of no-confidence because they fear it will be used to accuse the party of working to prolong the interim period and hamper the transfer of power to an elected president.
Katatny had asked Ganzouri and his cabinet to provide detailed information on how the decision to lift the ban was made. The speaker pledged to hold whoever is responsible for the decision accountable.
Translated from Al-Masry Al-Youm