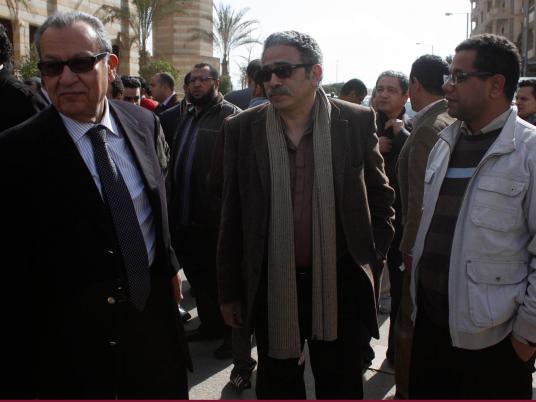 Former Prime Minister Ahmed Shafiq, former President Hosni Mubarak's sons Gamal and Alaa, and the former head of the Cooperative Housing Association for Military Pilots, General Nabil Farid Shokry, would all be tried before the criminal court, sources close to the case told Al-Masry Al-Youm on Monday.
Also today, Shokry was remanded into custody for 15 days pending further investigation into his involvement in the case of illegally appropriated lands in the Bitter Lakes region.
Shokry is accused of profiteering, facilitating the seizure of public funds, deliberately acting against the interests of the Air Force and forging official documents in collaboration with Shafiq.
Judge Osama al-Saidi, who is presiding over the trial, made the decision to remand Shokry into custody on Monday after the official allegedly pleaded guilty to all charges during an interrogation session, said sources close to the prosecution.
Shokry said that he acted under pressure from Shafiq, who forced him to forge official documents to facilitate the sale of the land.
Former MP and Wasat Party head Essam Sultan filed the charges against Shafiq, who lost the presidential race to President Mohamed Morsy with a four percent margin. Sultan accused Shafiq of squandering public funds by selling a 40,000 square meter plot of land in Ismailia that belonged to the Cooperative Housing Association of Air Force officers at below-market rates to Gamal and Alaa Mubarak, the sons of Egypt's former president.
The sale allegedly took place in 1990s, when Shafiq was the commander in chief of the Air Force.
Edited translation from Al-Masry Al-Youm