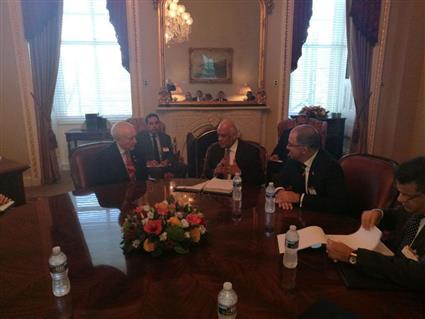 Egyptian Head of Parliament Ali Abdel Aal paid a visit to the US president pro tempore, US Congressman Orrin Hatch, on Wednesday, as part of an official visit conducted by a delegation from the Egyptian Parliament to the US.
The meeting, attended by a number of Egyptian Parliament members and headed by Abdel Aal, discussed the developments of bilateral relations between the two countries.
Aal noted during the meeting that the recent US decision to decrease US aid to Egypt contradicted with the strategic requirements for good bilateral relations between the two countries, according the state-run newspaper of Al-Ahram.
"The recent decrease of the US aid to Egypt is giving the impression of tense relations between the two countries," he explained.
The parliament head pointed out that his official visit to the US Congress was considered the first visit for head of the Egyptian Parliament since 2008.
He noted that Egypt has contributed effectively in countering terrorism and enriching the peace process in the Middle East and that it is necessary that these exerted efforts be appreciated by the higher ups in the US.