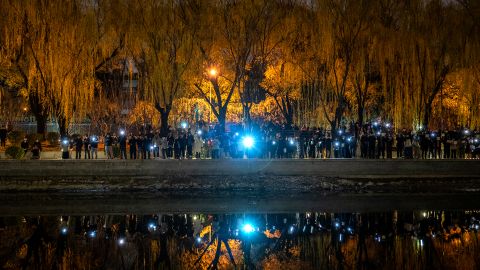 The Biden administration has recently raised concerns with China about evidence it has suggesting that Chinese companies have sold non-lethal equipment to Russia for use in Ukraine, in an effort to ascertain how much Beijing knows about the transactions, according to two US officials.
That equipment includes items like flak jackets and helmets, multiple sources familiar with US and European intelligence told CNN, but stops short of the more robust military assistance that Russia has requested.
The equipment transfers are "concerning," one of the US officials said, but at this stage, it's not clear to Washington whether the central government is aware of it. Although state-owned enterprises dominate China's economy, not all are subject to day-to-day oversight.
Some US officials believe the Chinese government knows about the equipment transfers and should take steps to upend them, the second official said.
While the Biden administration is still weighing the impact and overall significance of the support, it is a matter of increasing concern among US officials.
The US officials declined to offer details on the communications between the Biden administration and Beijing.
Secretary of State Tony Blinken travels to China in the coming weeks, and the transfers are expected to be a topic of discussion, the second official said.
CNN has reached out to the Chinese Embassy in Washington for comment. Bloomberg first reported the contact between the Biden administration and Beijing.