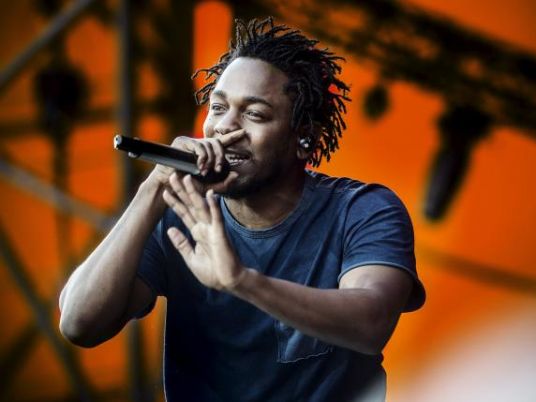 The sun was out for double-Grammy-award-winning US rapper Kendrick Lamar this weekend as he performed an energetic set of his hits to an enraptured young North London crowd.
On stage at the Wireless festival on Saturday, less than a week after winning "Best Male Hip-Hop Artist" at the BET awards, Lamar performed a stream of favorites.
"We gon' be alright! We gon' be alright!" the crowd shouted along with Lamar as they jumped up and down and pumped their arms in time with his latest single, the up-tempo "Alright" produced by US hitmaker Pharrell Williams.
It has been a good year for Lamar. After winning two Grammy awards in February for his single "i", his critically acclaimed album "To Pimp a Butterfly" reached the top spot on both the US and British album charts, in a first for the star.
And ask any hip-hop fan who they reckon is this generation's most gifted rapper and 28-year-old Lamar's name is among them. That is because of his skills as an emcee and for his ability to produce catchy hooks while delivering a strongly politicized account of life as a black man in the United States.
"On how the infamous, sensitive N-word control us … Well this is my explanation straight from Ethiopia / N-E-G-U-S definition: royalty, king, royalty — wait listen / N-E-G-U-S description: Black emperor, King, ruler," he raps on "i".
Lamar follows a line of famous hip-hop artists from the city of Compton in southern Los Angeles County, notorious for its gang culture, such as the rap supergroup N.W.A that spawned Dr Dre and Ice Cube.
Although his lyrics focus on the United States and its politics, they seemed to chime with the young, racially mixed London crowd who rapped along enthusiastically with "Compton", Lamar's ode to his hometown.
Ella Asiegbu, 17, who spent much of her childhood in Nigeria before moving to London, had come just to see Lamar.
"He's changed my life – it's a very cheesy to thing to say but it's true. I've actually lost my voice from screaming so much," she said.
Musically and lyrically Lamar breaks away from hip-hop stereotypes: "To Pimp A Butterfly" is accompanied by a jazz band.
But it was Lamar's older songs that elicited some of the most rapturous responses. After saying goodbye, he returned to perform 2011's "A.D.H.D.", one of his first songs to get attention from the mainstream media.
"It was amazing," Levi Laing, 17, said of Lamar. "I've never seen anything like it."