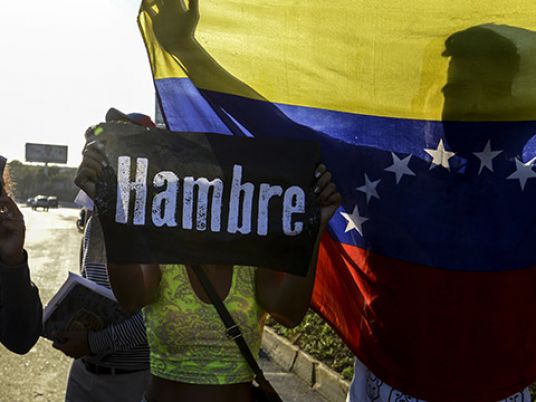 The CEO of the voting technology company Smartmatic said on Wednesday that results of Venezuela's election for an all-powerful constituent assembly were off by at least 1 million votes.
Antonio Mugica said results recorded by his systems and those reported by Venezuela's National Electoral Council indicate "without any doubt" that official turnout figures were inflated.
Smartmatic was created by Venezuelans and began providing electronic voting machines in 2004 during the presidency of the late Hugo Chavez.
Two of Venezuela's leading opposition figures, Antonio Ledezma and Leopoldo Lopez, were taken from their homes in the middle of the night by state security agents on Tuesday. Both incidents were purportedly captured on video. (via AP)
"Even in moments of deep political conflict and division we have been satisfied with the voting process and the count has been completely accurate," Mugica told reporters in London.
"It is, therefore, with the deepest regret that we have to report that the turnout figures on Sunday, 30 July, for the Constituent Assembly in Venezuela were tampered with."
President Nicolas Maduro's government announced late on Sunday that more than 8 million Venezuelans had participated in the election for constituent assembly that will be granted virtually unlimited powers. His count was put into question by at least one independent exit poll, showing turnout was less than half that number.
The claim is certain to fuel further discord over the assembly, which Maduro has vowed to utilize to target his foes. Opposition leaders boycotted the election, arguing voting terms were rigged to favor the ruling socialist party. Nearly 7.6 million people voted in a symbolic referendum rejecting the assembly two weeks before the vote.
The assembly is expected to be sworn into office on Thursday and the opposition is calling on Venezuelans to protest.
On Monday, two prominent opposition leaders were dragged from their homes by heavily armed security agents and thrown in a military prison, drawing condemnation from the United States and some Latin American countries. But many other nations and international organizations were silent or limited themselves to expressions of concern.
Opposition leader Leopoldo Lopez and Antonio Ledezma were accused by the government-allied Supreme Court of violating the terms of their house arrest by plotting to escape and releasing video statements criticizing Maduro.
Both men's supporters denied the charges and vowed to continue to try to push the ruling socialist party from power. However, they gave little indication of how they planned to do that, and the capital was unusually quiet after months of sometimes violent protests.
Lopez's supporters released a video that he taped last week saying he expected to be imprisoned again soon, and calling on Venezuelans to be firm in resisting Maduro.
"If you are looking at this video now, it's precisely because that occurred, because they came and they illegally imprisoned me again unjustly, a prisoner of consciousness, a prisoner for my ideas, a prisoner for wanting a better Venezuela," the 46-year-old Lopez said.
Maduro appeared undeterred in his plans to seat a special assembly this week with powers to rewrite the constitution and override any other branch of the Venezuelan government. He has threatened to use those powers to go after his opponents and the Tuesday arrests show he is willing to proceed with full force.
Maduro called the vote for the constitutional assembly in May after weeks of protests fed by anger at his government over food shortages, triple-digit inflation and high crime. Many people accuse the ruling party of corruption and mismanagement.
The Trump administration quickly moved against Maduro on Monday, adding him to a growing list of high-ranking Venezuelan officials targeted by financial sanctions. But the US held off on sanctioning Venezuela's oil industry, which could undermine Maduro's government but also deepen the humanitarian crisis in Venezuela.
Maduro scoffed at the sanctions and said he had no intention of deviating from his plans to rewrite the constitution and go after a string of enemies. He has said he would use the assembly's powers to bar opposition candidates from running in gubernatorial elections in December unless they negotiate an end to protests that have resulted in at least 120 deaths and nearly 2,000 injuries over the past four months.
US Secretary of State Rex Tillerson said on Tuesday that the Trump administration was "evaluating all of our policy options as to what can we do to create a change of conditions where either Maduro decides he doesn't have a future, and wants to leave of his own accord, or we can return the government processes back to their constitution."
Later, the White House issued a statement condemning "the Maduro dictatorship" over the arrests and saying Lopez and Ledezma are political prisoners.
"The United States holds Maduro — who publicly announced just hours earlier that he would move against his political opposition — personally responsible for the health and safety of Mr. Lopez, Mr. Ledezma, and any others seized," the White House said.