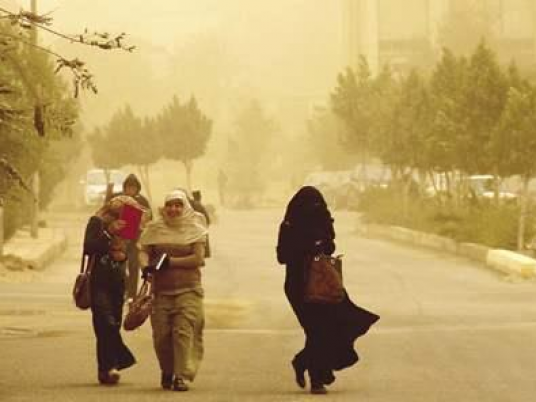 The wave of unpredictable weather continued in Egypt on Sunday, with warm temperatures continuing and Cairo's sky filled with dust, while some parts of the capital experienced lightning and light rain.
However, Ahmed Abdel Aal, chairman of the General Authority for Meteorology, said that Sunday marks the end of the heat-wave that Cairo has been experiencing, with a big drop in temperatures expected from Sunday evening.
Monday is expected to be colder still, bringing with it rain and strong winds that will have the effect of continuing the dust storm.
Abdel Aal told the CBC Extra newsroom on Saturday that the warm and dusty weather normally arrives in Cairo along with the sirocco wind in early May. The sirocco — known as in Egypt as the khamaseen — blows from the Sahara Desert during spring and can reach high speeds, blowing sand into the air as it goes.
Abdel Aal warns people not to start wearing light clothes yet, as temperatures will drop again soon. He also warns fishermen not to dive very deep in the sea, because of changes in salt levels.
Finally he warned of fog on all the major highways in the coming days, meaning that drivers should take extra care.
According to the official meteorological reports, the weather on Monday is expected to be moderate on the northern coast, warmer in Lower Egypt and Cairo, and very hot in Upper Egypt.
Low- and mid-level clouds are expected to show up from northern Egypt to the north of Sinai and Upper Egypt, bringing rain with them.
Also expected are strong north-westerly winds all over the country, which will cause dust storms in the south.
The Mediterranean Sea is expected to be moderate, with waves reaching a height of 1.5 to 2 meters. The Red Sea, however, is expected to be more turbulent, with waves 2 to 2.5 meters high. Surface winds on both seas are expected to come from the north-west.