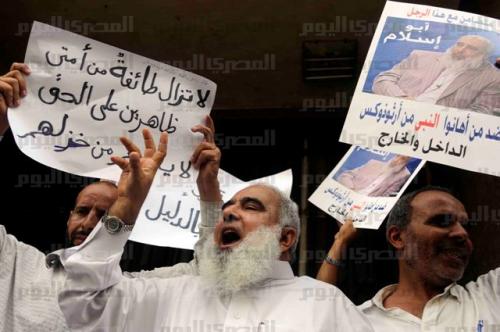 Waily Appeal Misdemeanor Court adjourned the appeal filed by preacher Ahmed Abdallah, also known as Abu Islam, against a three-year prison sentence to 1 January, so that the defendant can attend the court session.
Abu Islam was sent to three-year imprisonment in a lawsuit filed by Naguib Gabriel, a Coptic lawyer, who accused him of contempt of the Christian religion and insulting the women of Egypt, especially Coptic women.
Abu Islam and his son were also accused of tearing up a copy of the Bible while demonstrating outside the US Embassy in September 2012. Protesters had gathered to show their disgust with a film made in the United States that many Muslims found insulting to Islam and the Prophet Muhammad. He was sentenced to five years in prison for that case, which he is currently serving.
Edited translation from Al-Masry Al-Youm