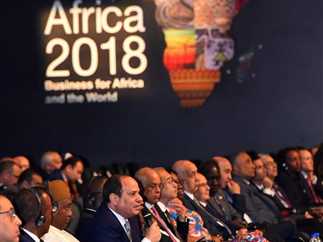 At the "Africa Tourism 2018" session, held as part of "Africa 2018" forum in Sharm al-Sheikh from December 8 to 9 under the patronage of President Abdel Fattah al-Sisi, speakers discussed building sustainable business models for tourism promotion, the role of tourism in the economic growth of countries, the creation of a unified African aviation market, and the facilitation of entry procedures into African countries by tourists, whether foreign or African.
The Egyptian tourism sector is one of the largest sectors contributing to the country's economic growth. It contributed to about 20 percent of Egypt's GDP at the end of the first quarter of this fiscal year, Tourism Minister Rania al-Mashat said.
The number of tourists increased by 40 percent year-on-year, she pointed out.
The minister added that the tourism sector is one of the sectors in Egypt able to create the highest number of job opportunities, especially during the tourism boom.
Mashat explained that the state is putting tourism on its list of priorities and discussions are ongoing with the private sector, which owns about 98 percent of tourism in Egypt, to solve any problems facing it.
"We are working on many institutional reforms within the ministry by training staff abroad to build a good sector in line with global developments," she said.
Mashat added that the ministry is working on reforming and updating the old legislation in line with international developments. It is also working to expand marketing through the Internet, in addition to studying green tourism in compliance with international environmental standards, she said.
The tourism sector in Africa witnessed a decline until around 2016, but there has been a boom in the last two years and millions of tourist nights are now being spent in Africa, according to Mashat.
"Our goal is to expand the domestic tourism base in Africa in light of the decline in marketing within the continent compared to external marketing," said Thebe Ikalafeng, a member of the board of directors of the South African Tourism Agency. He called for reducing travel costs among African countries to attract more tourists.
Ikalafeng pointed out that the biggest challenge facing tourism in Africa is the decline in the use of technology within the sector. He called for facilitating the entry and movement of tourists between African countries through the use of technology, in addition to studying the different cultures of African countries for use in tourism promoting.
Gerald Lewis, ambassador of the World Travel and Tourism Council, called for the creation of a unified African aviation market, which would have a positive effect on the continent's tourism flow. He also called for the application of the "open sky" system to facilitate the internal trade of the continent.
He pointed to the need for good communication between the countries of the continent, and suggested establishing of a unified visa for African countries.
Edited translation from Al-Masry Al-Youm