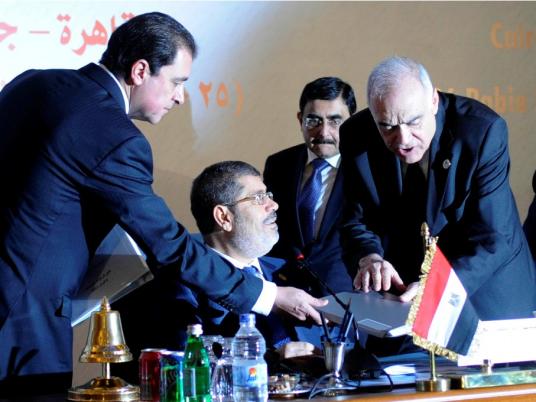 The president's office released a statement Wednesday evening saying it would not appeal an earlier court ruling that could delay upcoming parliamentary elections.
The statement said, "The president's office asserts its respect for the decision of the [Supreme] Administrative Court, which called off parliamentary elections while the elections law is reviewed by the Supreme Constitutional Court, upholding the value of the rule of law and the Constitution."
Reuters had reported Mohamed Gadallah, a legal adviser to President Mohamed Morsy, confirming plans to challenge the decision.
On Wednesday, the Supreme Administrative Court had ordered the elections law amended by the Shura Council to be reviewed by the Supreme Constitutional Court, despite the fact that Morsy has already set elections dates in April and May.
The SCC had objected to several articles in the draft version of the law and submitted a report to the Shura Council last month. The council amended the bill based on those same recommendations and passed the law.
The controversial ruling came as a "surprise" to the Muslim Brotherhood, according to the group's lawyer Abdel Moneim Abdel Maqsoud, who added that the Brotherhood had requested a copy of the verdict to further study it.
Abdel Maqsoud also told Al-Masry Al-Youm that the group will study the possibility of appealing the verdict.
The Brotherhood's Freedom and Justice Party is also studying the decision, said Faisal al-Sayed, a member of the party's legal committee, adding that the Constitution mandates how elections dates are scheduled, which cannot be challenged legally.
However, there seems to be some discord within the party.
Morad Ali, the party's media adviser, said he respected the judicial ruling and that the party "would not challenge the verdict."
In a Wednesday Facebook post, Ali said the FJP does not "have any problem in referring the elections law to the SCC" and that the party is "awaiting the SCC decision on the elections and the resolutions it will announce on the verdict."
Salafi Nour Party officials had demanded the elections law be reviewed by the SCC after the Shura Council's amendments to ensure the parliamentary elections were constitutional and could not be challenged in court. The party feared the SCC could order parliament dissolved a second time, said Galal al-Morra, the party's secretary general.
He added that the state could not bear spending billions of pounds to elect a new parliament only to have it challenged by court rulings once more.
Meanwhile, Jama'a al-Islamiya's Construction and Development Party demanded Morsy respect the ruling and refer the elections law governing the House of Representatives elections to the SCC right away.
Party chief Alaa Abul Nasr said the verdict would not affect preparations for the elections.
Opposition forces also welcomed the decision.
Amr Hamzawy, a leading figure in the National Salvation Front, tweeted his pleasure over the decision, saying, "The judiciary stopped the Brotherhood mess."
He described the ruling as "a new lesson to the Brotherhood and their lawmakers appointed at the Shura [Council]."
Edited translation from Al-Masry Al-Youm