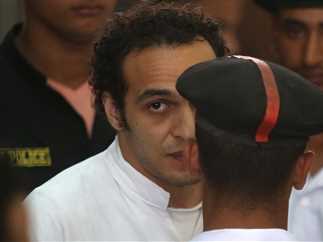 The Egyptian foreign ministry criticized UNESCO's intention to grant photojournalist Mahmoud Abu Zeid, commonly known as Shawkan, an international prize for freedom of the press.
The ministry said in a press statement it "deeply regrets" the organization's involvement in "honoring a person who has been accused of committing terrorist and criminal acts, including murder, attempted murder, assaulting the police and citizens, destroying public and private property."
Shawkan has denied all the charges leveled against him. He was working with international media at the time of his arrest.
Ministry spokesperson Ahmed Abu Zeid said on Sunday that the ministry had instructed Egypt's permanent representative to UNESCO in Paris to hand over to the organization's secretariat a full file on the charges brought against Shawkan.
These charges are purely criminal in nature, and are not political or related to the freedom of press, Abu Zeid said.
Nominating Shawkan for the prize was motivated by a number of non-governmental organizations, including organizations driven by Qatar and known for their support of the Muslim Brotherhood, he said.
Abu Zeid added it was "unacceptable" for UNESCO to get involved in the trap of politicization and nepotism that contributes to the implementation of the agenda of certain countries, drifting away from its lofty mission as the civilized and cultural frontier of the world.
Abu Zeid added that the situation brings to mind what has already been raised about the politicization of UNESCO and the statement issued by the Minister of Higher Education and the Permanent Representative of Egypt to UNESCO on April 9, warning against the consequences of involving the UNESCO into political issues that are incompatible with its principles and purposes.
He stressed that granting Shawkan a prize for the freedom of press represents "disregard for the rule of law" and the judicial procedures being taken against Shawkan.
Rights groups, including Amnesty International, have called for the release of Shawkan and have said there is no hard evidence against him.
The photojournalist, detained in 2013 while covering the dispersal of the Muslim Brotherhood sit-in in Rabaa square, has repeatedly had his trial delayed and postponed.
Egypt regularly ranks as the third highest jailer of media workers in the world, according to the Committee to Protect Journalists.
UNESCO needs a comprehensive and serious review of its working methods during the next phase under the new chairman, Abu Zeid said.
Edited translation from Al-Masry Al-Youm