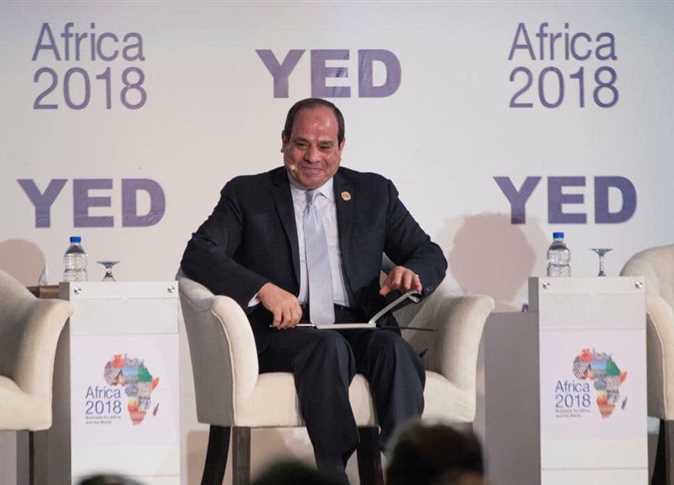 Egyptian President Abdel Fattah al-Sisi said on Saturday that his country is keen to take several measures to support entrepreneurial youth.
He stressed during a speech at the preliminary meeting of young entrepreneurs in Africa that Egypt's policy towards youth in this area depends on a range of encouraging means.
During the session, part of the Africa 2018 Forum being held at the Red Sea resort city of Sharm el-Sheikh, Sisi explained that the measures taken by the government to support and empower the youth, especially in the area of entrepreneurship, include:
The state institutions have been mandated to unify their efforts to establish the first regional center for entrepreneurship in Egypt with the aim of providing all necessary support to the emerging companies in Egypt and the countries of the region, as well as the design of an integrated approach for the rehabilitation and training of young people in entrepreneurship.
A call has been made to establish an Arab-African finance fund to support entrepreneurship in the Arab world and Africa.
Launching an initiative to train 10,000 Egyptian and African youth as developers of electronic games and applications over the next three years.
New legislations and laws have been passed to support youth projects, such as the law on the decoration of land transport service for passengers using information technology, the law on organizing the work of mobile food units, and the amendment of the Companies Law and allowing the establishment of a one-person company.
The Fekretak Sherketak (Your Idea is Your Company) center for supporting Egyptian youth and entrepreneurs was established and activated. It is the first government service center in this regard, and it contributed in less than a year to providing about 450 sessions of guidance to entrepreneurs and about 40 courses on various topics of entrepreneurship to transform the ideas of entrepreneurial youth into realistic projects.
The establishment and financing of more than 50 emerging companies in various areas during one year within the framework of Falak Startups, the flagship acceleration program for entrepreneurship.
Launching a competition in cooperation with the International Finance Corporation (IFC) of the World Bank to select 100 emerging companies to participate in the 2018 Africa Conference, with 20 of them selected to present their ideas to a large gathering of African and Arab investors participating in the forum.
President Sisi called on young people to work hard, innovate, think outside the traditional frameworks, be confident in themselves, and resolve their ideas and dreams to a tangible reality that will bring Africa a brighter future, a decent life and a suitable place among peoples and nations.
Edited translation from Al-Masry Al-Youm