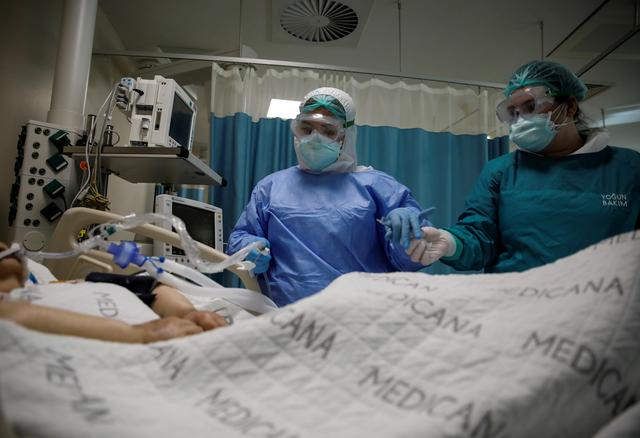 The Egyptian Health and Population Minister, Hala Zayed, outlined on Monday the country's action plan for a possible second wave of coronavirus, during the meeting of Egypt's Supreme Committee for the Management of the Coronavirus Crisis.
The meeting was held through video conference and attended by Egypt's ministers and officials, among them Prime Minister Mostafa Madbouly.
The country's action plan is divided into four key areas.
The first area is to establish safe health service outlets. 320 of Egypt's public and central hospitals are included in this point, in addition to hospitals specifically for fevers and chest ailments. The hospitals will additionally increase their workload capacities for chronic disease management and PCR lab analysis.
Zayed explained that the second point involves creating a sufficient reserve of medical supplies and medicine to ensure continued access to these resources for facilities and patients alike.
The third area includes denying entry into the country to anyone arriving without a negative PCR test and establishing easily-accessible quarantine areas in hospitals.
The fourth and final area of Zayed's action plan is concerned with the production and distribution of vaccine, which will be managed by the Egyptian Holding Company for Biological Products and Vaccines (VACSERA) in collaboration with a Chinese vaccine company. VACSERA earlier this month struck a deal with Gavi, the Vaccine Alliance, stating it will provide a percentage of Egypt's population is the AstraZeneca vaccine developed by Oxford University.
Zayed noted that the Health and Population Ministry has trained medical staff on treatment protocols and infection control standards in both fever and chest hospitals and isolation hospitals.
The minister indicated that in the period from September 5 to 11, the country has witnessed a slight decrease in the infection rate as compared to the previous week.
Overall, Zayed said that compared to 20 other countries, Egypt has managed to maintain a low transmission rate of COVID-19.
Edited translation from Al-Masry Al-Youm