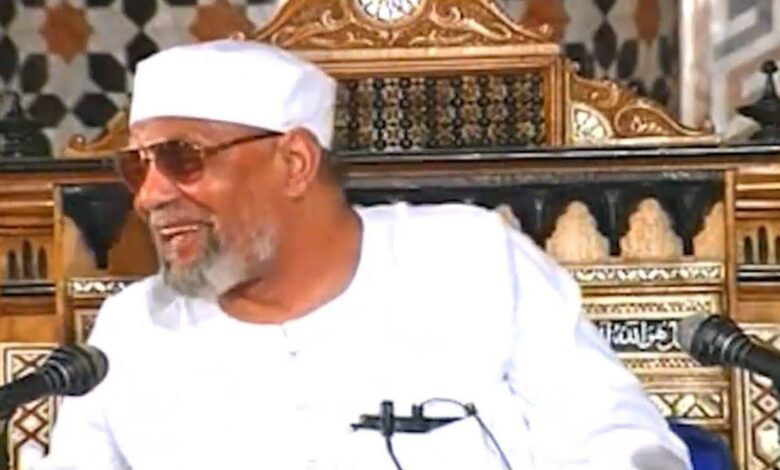 Souad, the granddaughter of late renowned Sheikh Mohamed Metwally al-Shaarawi, responded to the attack against her grandfather during the past few days.
Shaarawi's granddaughter said, on Saturday, that the late popular Sheikh does not need someone to defend him, because his history is sufficient to do so.
Souad added that the family ignored many past attacks against Sheikh Shaarawi before.
However recently there has bee been a different tone and an increase in criticism.
This time the family felt that it had to go out and defend the sheikh.
Shaarawi's granddaughter continued: "We respond so that the issue does not get out of hands and beyond its limits.
It seems that people who have nothing better to do attacks Sheikh Shaarawi, and repeats old words for the Sheikh that have been refuted before, so that the people doing the attacking may become a trend and get some fame."
And she continued: "All the words that are repeated against the Sheikh were repeated by the same people, we can't find anything to say, and the Sheikh's fans are so many that they can defend him, even though he doesn't need anyone to defend him."
Souad added: "thank you to everyone who attacks Sheikh Shaarawi because this will be a reason for people to remember him and ask for blessings for him."
Controversy regarding Shaarawi's sermons resurfaced last week after liberal journalist Ibrahim Eissa criticized Shaarawi.
Eissa accused the beloved sheikh as being "an extremist, Salafist sheikh, who is against Copts and insults women."
This prompted the Egyptian Presidential Adviser for Religious Affairs Usama al-Azhari to step in.
He hailed the late Sheikh as a symbol of science and patriotism.
In a Facebook post, Azhari countered by calling Shaarawi is a symbol of knowledge, patriotism, and Egypt's contribution to all the Arab and Islamic worlds.
"Some have a vendetta against Shaarawi for an unknown reason," he noted.
Azhari continued: "There are those that say that the honorable companions of the prophet are murderers and extremists, so it is not strange to hear something like this about Shaarawi, who protected people from extremism and terrorism."