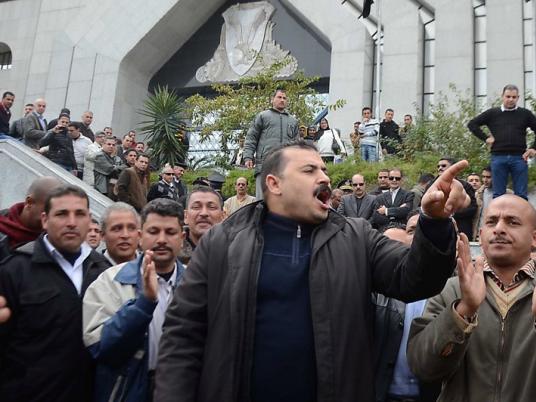 The Interior Ministry on Saturday partially responded to the demands of protesting police officers by agreeing to supply them with 100,000 guns.
However, some of the police protesters claim that the decision will not be enforced and have vowed to continue protesting until Interior Minister Mohamed Ibrahim is dismissed.
The ministry has also agreed to hold monthly meetings between security chiefs and low-ranking police officers, allowing the officers to report problems to the ministry, and will form a committee to provide health care to all ministry employees and their families.
Police officers have protested across the country for the past six days demanding the right to carry arms. Officers allege that their lack of arms was a factor in the deaths of several police officers during clashes with protesters during recent demonstrations.
One such protest was staged in Beni Suef Saturday, when a funeral for a police officer killed while intervening in a gunfight turned into an angry protest against the Interior Ministry.
Meanwhile, two people suspecting of being behind the officer's killing were assaulted by residents, who beat them with shoes and pelted them with stones.
Police officers also attempted to attack Ibrahim while he was participating in the funeral of two officers who were killed in violence that broke out in Port Said last month.
Edited translation from Al-Masry Al-Youm