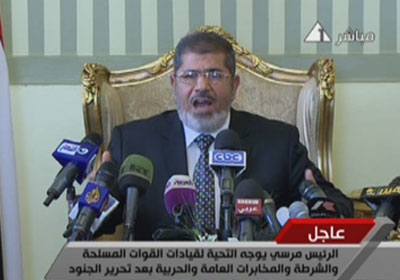 President Mohamed Morsy and Prime Minister Hesham Qandil will attend an Islamist-led conference to discuss the consequences of Ethiopia's controversial Grand Renaissance Dam project.
Thirteen Islamist political groups are set to attend talks at the Cairo International Conference Centre on Monday, according to a statement by the Muslim Brotherhood-affiliated Freedom and Justice Party.
"National groups, political parties, popular and political figures will convene, in the presence of President Mohamed Morsy, to take part in a conference on the preservation of Egypt's rights to Nile water," it said.
Besides the FJP, parties attending will include the Salafi-oriented Nour Party, Wasat Party, the Construction and Development Party, Asala Party, Fadila Party and Islah Party.
Ayman Abdel Ghany, the FJP's youth secretary, claimed the conference represents a cross-party bid to cooperate with the president and his government in attempts to solve the Nile water crisis.
Invitations to join had been extended to all political groups in Egypt, he added.
Safwat Abdel Ghany, a senior leader within Jama'a al-Islamiya, said participants still sought strong relations with African countries, particularly Ethiopia.
However, further action could still be on the table, he said.
"Diplomacy is the best solution for the time being. The military option will be last."
Ethiopia's Grand Renaissance Dam project has created a political stand-off with Egypt, where many fear the initiative could diminish vital shares in River Nile water supplies.
Last month Ethiopia announced plans to divert the course of the Blue Nile before beginning construction on a hydro-electricity dam in the area.
However the move has rattled Egypt and Sudan, while the Ethiopian government has vowed the dam would not damage water supplies to downstream Nile states.
Edited translation from Al-Masry Al-Youm