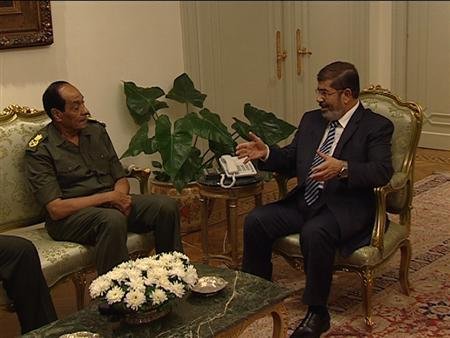 President Mohamed Morsy sent head of the Supreme Council of the Armed Forces Hussein Tantawi and Chief of Staff Sami Anan to retirement Sunday, in the most drastic shuffle of the country's military leadership since Morsy assumed power at the end of June.
Morsy appointed current military intelligence chief Abdel Fattah al-Sisi as defense minister and head of the armed forces following Tantawi's retirement.
Spokesperson Yasser Ali, who announced the changes, also said that Morsy canceled the supplement to Constitutional Declaration, which was passed by the SCAF on 17 June and limited the president's powers. Ali said the supplement would be replaced with Article 25 of the original Constitutional Declaration passed by popular referendum in March 2011, which stipulated that once a civilian president was elected, the SCAF's powers would be transferred to the president.
Morsy also ruled that if the work of the Constituent Assembly is impeded for any reason, he would form a new Constituent Assembly to prepare a new constitution within three months from the date of its formation. In addition, parliamentary elections are to be held within two months of the day the new constitution is approved.
Morsy also appointed Mahmoud Mekky, a judge, as his vice president.
Ali also announced that Sidqy Sobhy was appointed military chief of staff, SCAF member Mohamed al-Assar was appointed deputy defense minister and head of naval forces Mohab Mamish, also a SCAF member, was appointed head of the Suez Canal Authority.
Sources at the presidency said on Sunday evening that both the new defense minister and head of the armed forces, Abdel Fattah al-Sisi, and the new appointed vice president Mahmoud Mekky were sworn in before the announcement of Morsy's decree to send Tantawi into retirement and to cancel the supplement to the Constitutional Declaration.
The sources told Al-Masry Al-Youm that Morsy's decisions came within the presidency's desire to maintain stability at a time when Egypt faces terrorism in Sinai, as well as to ensure that the military institution will fully performs its duties.
The presidency felt that these changes to the country's leadership should be announced on state-run television only, according to the sources, who said the presidency sought to avoid "confusion," especially since some media sources do not stick to the accurate news.
Both Tantawi and Anan were also appointed advisers to the president. Tantawi was given the Nile Medal, the highest state honor in Egypt, and Anan was awarded the State Medal.