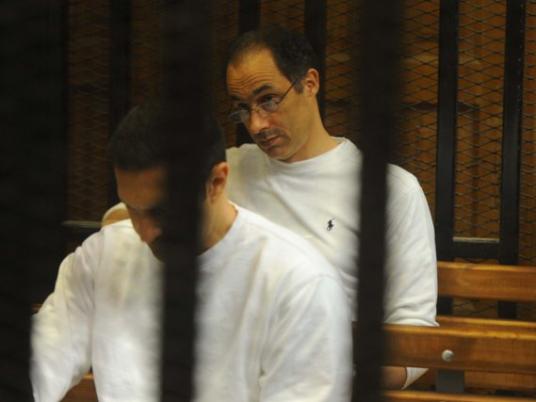 Giza Criminal Court adjourned the trial of Alaa and Gamal Mubarak and seven other businessmen until Tuesday, so the court could hear witnesses' testimony, after a session Sunday.
The two sons of former president Hosni Mubarak and the other seven defendants face charges of illegally profiting from the sale of Watany Bank of Egypt.
In May, Gamal and Alaa, together with seven other men, were referred to a criminal court, charged with violating stock market and Central Bank rules to illegally profit from trades on shares of Watany Bank of Egypt.
Mubarak's eldest son, Alaa, is a businessman. Gamal, a former banker, was widely viewed as being groomed for Egypt's top job until his father was toppled in February 2011.
The first witness, Maher Ahmed Salah Eddin, an official at the Egyptian Financial Supervisory Authority, said that he ordered the formation of a committee to investigate whether there were any relations between EFG-Hermes and the Mubarak family.
Salah Eddin added that Gamal Mubarak did participate in some financial operations with EFG-Hermes but did so through Cypriot companies.
Alaa, however, dealt directly with EFG-Hermes by buying shares in Watany Bank of Egypt, Salah Eddin told the court.
Edited translation from Al-Masry Al-Youm