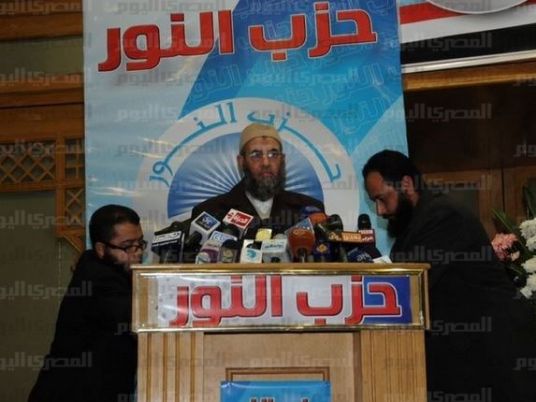 Leading sources from the Salafi-led Nour Party said some party members are angry at not being invited to the first session of the societal dialogue held by Prime Minister Ibrahim Mehleb, or the committee tasked with amending the electoral districts law on Thursday.
The party leaders considered this move as 'ignorance' and the 'underestimating' of the party, in addition to being a response to other parties that seek to exclude the Nour Party from the sessions.
The sources added that the leaders are pressuring Yasser Borhamy, chief of the Salafi Call, to find a solution to get past the exclusion.
Borhamy, as well as Ashraf Thabet, another party figure, spoke to government officials and were notified that the party will be invited to attend the sessions, denying Mehleb's response to pressure by other parties by refusing the Nour Party's presence, according to the sources.
Mahmoud Hegazy, a member of the party's supreme body, said the party seeks to contribute to the roadmap and remove obstacles. It approved proposals by other parties in order to prevent conflicts with other parties. He added that the party seeks to reach a national consensus among parties over amendments to the elections law.
Mohamed Salah, a member of the party's media committee, said not inviiting the party cannot be described as marginalization, adding that there will be other dialogue sessions. Even if the party did not take part in the first session, it did submit its proposals over the electoral process and elections laws to the High Elections Commission at previous discussion sessions.
Edited translation from Al-Masry Al-Youm