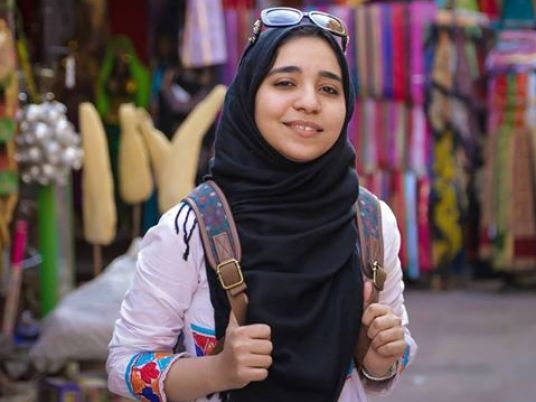 Salawa Mehrez, a recently pardoned activist, expressed solidarity with detained photojournalist Esraa al-Tawil through her Facebook account on Monday, saying she will continue to support Tawil since she is now free.
Mehrez, an activist who had been arrested at a June 21 march to Ettihadeya Presdiential Palace to demand the abolition of the protest law, was one of the 100 activists pardoned by President Abdel Fattah al-Sisi on Wednesday, September 23.
"Since I am now famous…I want to speak about Esraa al-Tawil," wrote Mehrez. "Esraa is injured and in detention. I used to see her in prison, but I was unable to help her. I was not allowed to talk to her."
Mehrez said she would keep supporting Tawil's cause since she is now free and expressed hope that she will be released soon.
The prosecutors accused Tawil of belonging to a terrorist group and spreading false news.
After disapearing on June 1, Tawil was spotted in Al-Qanater prison in mid-June along with her two friends Sohaib Saad and Omar Mohamed, all of whom were having dinner in Maadi at the time of their abduction.
Tawil was abducted by security forces and held in detention for almost two months without charges before her whereabouts were known.
Al-Sisi pardoned 100 activists on September 23, including Al Jazeera journalists Mohamed Fahmy and Baher Mohamed, Mehrez, Yara Sallam, and other activists accused of violating the protests law.
Human rights groups have accused Egyptian authorities of widespread violations since the army toppled the country's first democratically elected president, Mohamed Morsi, after mass protests against his rule two years ago.
"Those pardoned today include only a fraction of the hundreds of people across the country who have been arbitrarily arrested and unlawfully detained," Amnesty International said in a statement.
The organization called for the release of all arbitrarily detained activists in Egypt.