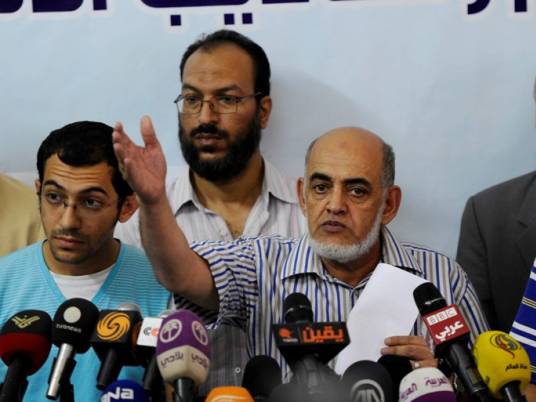 The National Alliance to Support Legitimacy welcomed on Tuesday an initiative put forward by Hassan Nafaa, a writer and professor of political science at Cairo University, and accepted his mediation in Egypt's current political crisis between toppled President Mohamed Morsy's supporters and the new military-backed government.
The Alliance said it awaited the return of Nafaa from Tunisia to move ahead with the initiative and form a committee of public figures, paving the way for a national dialogue between the political opponents.
Alliance spokesperson Magdy Qarqar said the SCAF's silence toward the initiative made the Alliance postpone its final decision about the initiative.
He added to Al-Masry Al-Youm that Nafaa submitted the initiative one and a half months ago but received no serious response so far.
"The Alliance will not announce its final decision on the initiative unless the military 'junta' announces its position," Qarqar said.
Amr Farouq, Wasat Party leader, said party leaders met with Nafaa and welcomed the initiative. Farouq added that the initiative does not offer solutions but rather sets a mechanism for negotiation.
Farouq added in a statement to Al-Masry Al-Youm thay they agreed on a number of public figures as intermediaries between the state and the Alliance to reach a solution for the crisis. Some of the figures include professor Galal Amin, Mohamed Hassanein Heikal, Tareq al-Beshry, and Mohamed Selim al-Awa. The negotiations are expected to begin when Nafaa returns to Egypt.
Edited translation from Al-Masry Al-Youm