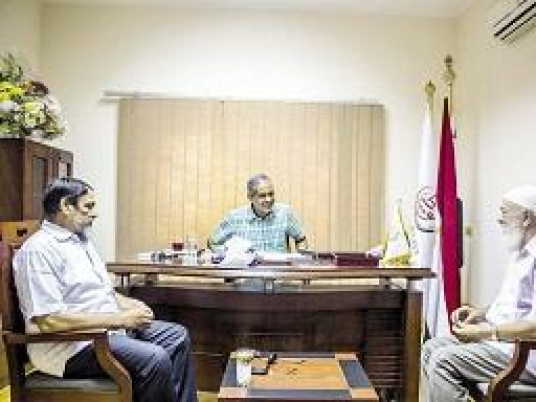 The chairman of the centrist Islamist Wasat Party Abul Ela Mady resumed his political activity on Saturday, a few days after his release from custody, according to sources.
Mady, who was released from detention last Wednesday, met with a delegation from Jama'a al-Islamiya, according to sources from the organization.
Giza Criminal Court had ordered Mady to be released for exceeding the permissible time limit of custody detention, which is two years. He had been detained over charges of inciting the violence which broke out between former president Mohamed Morsi's supporters and opponents in Giza's Bein al-Sarayat district in 2013, shortly after Morsi's overthrow. The incidents left 23 dead.
Mady was part of a government campaign of mass arrests during the crackdown on Islamists forces in the aftermath of the deadly dispersals of the sit-ins at Rabaa al-Adaweya and Nahda squares.
Jama'a al-Islamiya sources said the meeting discussed boycotting all political entities founded by the Muslim Brotherhood after Morsi's overthrow, and the prospects for replacing them with a new alliance of Islamist and leftist groups opposing the incumbent government of President Abdel Fattah al-Sisi.
The Wasat Party withdrew in 2014 from the National Alliance to Support Legitimacy, the organization that had led protests demanding Morsi's reinstatement before it was banned late 2014. Jama'a Islamiya is still grappling with internal calls to withdraw also.
The same sources said the Jama'a Islamiya delegation explained that boycotting the Brotherhood was a difficult choice given the fact that it shelters several fugitive Jama'a Islamiya leaders abroad.
Edited translation from Al-Masry Al-Youm