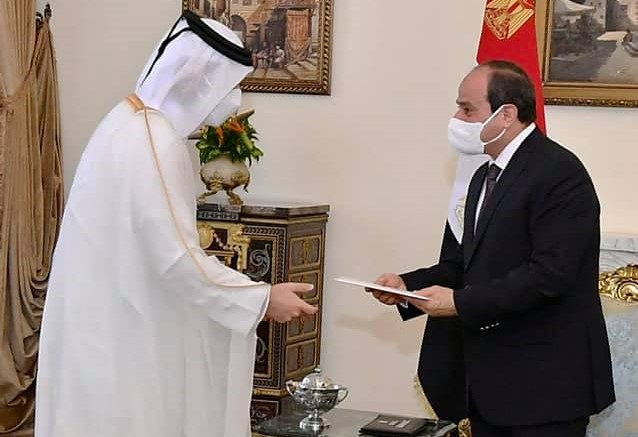 In another step toward repairing Egyptian-Qatari relations, President Abdel Fattah al-Sisi has sent a letter to the Emir of Qatar, Tamim bin Hamad Al Thani.
The letter was delivered by Egypt's Foreign Minister Sameh Shoukry, during his visit to Doha on Monday.
The Foreign Ministry explained in a statement that the letter expressed the importance of continuing to develop relations between the two countries into the next stage, adding that Egypt looks forward to the continuation of mutual steps to resume bilateral cooperation.
Sisi added that Egypt has a desire to settle all outstanding issues, and he invited the Emir of Qatar to visit Cairo at the earliest opportunity. 
The two countries met in Kuwait in February for the first time since ending the years-long diplomatic freeze between the two countries in January.
The resumption of ties came after nearly four years of a row between Qatar and Egypt, Saudi Arabia, Bahrain, and the UAE over Qatar's alleged terrorism sponsorship and its close relations with Iran.
The countries agreed to reconcile during the Gulf Cooperation Council (GCC)'s summit meeting in al-Ula, Saudi Arabia in January.