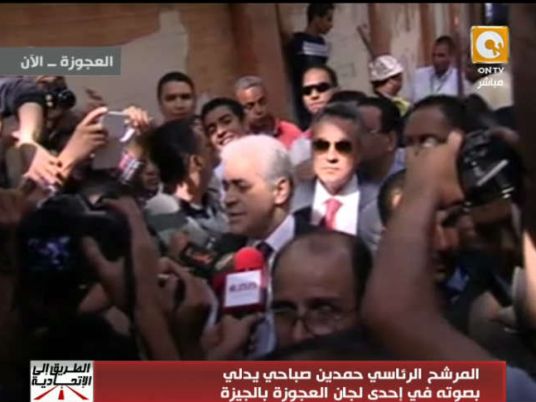 Former defense minister and presidential candidate Abdel Fattah al-Sisi arrived Monday morning to Khulafaa al-Rashidin school in Heliopolis, Cairo, to cast his ballot in the first presidential elections held since he ousted former leader Mohamed Morsy.
Meanwhile, Sisi's presidential contender Hamdeen Sabbahi cast his ballot at Sayyid Kahdiga school in Mohandiseen. He told reporters he was "eager to ensure social justice, build a sound democracy and enhance detainees conditions."
State-run Al-Ahram news portal also said Interim President Adly Mansour also cast his ballot at Heliopolis School. The website reported military choppers hovering over the area, while special forces mounted the school's rooftops.
Mansour urged Egyptians in a speech on Sunday to take part in the polls, stressing that the state stands on equal distance from all candidates.
More than 53 million registered voters are eligible to vote in the race which the Muslim Brotherhood dismisses as illegitimate.
Edited translation from Al-Masry Al-Youm