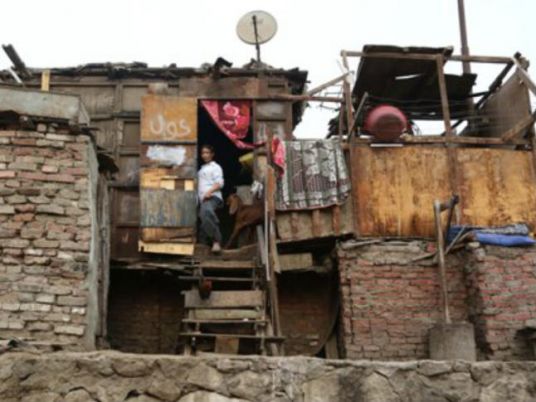 President Abdel Fattah al-Sisi has officially opened two new areas of purpose-built housing in the Moqattam area of Cairo that aim to replace several areas of sub-standard and dangerous housing in Cairo, including Duwaiqa, Establ Antar and Ezbet Khairallah.
The two projects, which were opened on Monday, are part of the larger Hayy al-Asmarat housing project, which comprises a total of 11,000 housing units, costing LE1.5 billion to build. The occupants of the new homes will be transferred from slum areas soon.
The first estate was built on an area of 65 feddans and includes 173 buildings. It was constructed by the ministries of housing and local development through a joint fund established for the development of slums, according to official sources.
The second estate was funded by the Long Live Egypt Fund at a cost of LE700,000. It comprises 4,722 apartments in 140 buildings, the sources added.
The Egyptian government under President Sisi has made a priority of eliminating slum areas that pose a threat to the lives of residents, according to the same sources, adding that the state plans to replace such areas with about 160,000 housing units at a cost of LE14 billion over two years.
During Monday's inauguration ceremony, Prime Minister Ismail Sherif referred to the Takaful and Karama (Solidarity and Dignity) Program, which aims to provide financial support to 1.5 million poor families across the country. He said the program has helped 706,000 families so far, with the rest being included through 2017 and 2018.
Housing Minister Mostafa Madbouly delivered a speech during which he stressed the importance of cooperation between the state and NGOs in establishing housing projects like Hay al-Asmarat.
The problem of slums goes back to the late 1950s. The phenomenon was caused by problems in the laws on rents, the recession of the real-estate market, the internal migration from rural to urban areas, and the displacement of the residents of cities of the Suez Canal in 1967, the minister added.
During the fiscal year 2016-2017, the government will focus on the redevelopment of 156 poor areas, providing improvements to homes for 340,000 people at a cost of LE6.25 billion, Madbouly said.
The Housing Ministry plans to declare the elimination of slum ares in six governorates, namely Alexandria, the Red Sea, Suez, Port Said, Matruh, and Aswan, according to Madbouly.
In the following fiscal year (2017-2018) the ministry will continue its work, redeveloping 123 slum areas at a cost of LE5.25 billion, improving living conditions for 300,000 people, he said.