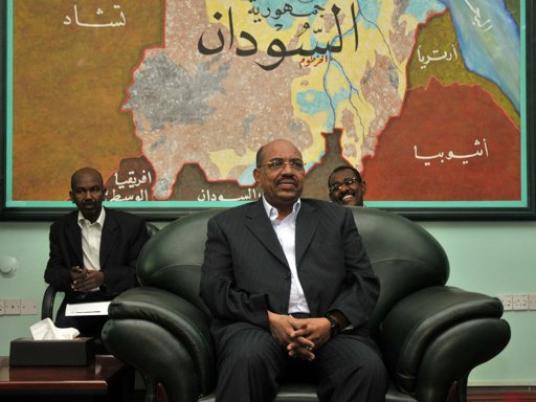 The Sudanese Ambassador to Cairo Abdel Mahmoud Abdel Halim described President Omar al-Bashir's visit to Cairo next Sunday and Monday as historical stressing that the relations between Egypt and Sudan at the moment were going on the right track.
Abdel Halim stressed to Al-Masry Al-Youm that Sudan would never be an arena for the Egyptian opposition.
Bashir's visit to Egypt is historic as it will be the first visit after President Abdel Fattah Sisi took the reins of power in Egypt, said Abdel Halim. The importance of the visit also lies in the files that would be discussed and which aim to strengthen relations between Cairo and Khartoum and make it a model for other countries, whether in Africa or the Arab world, he added.
Despite the unparalleled historical civilizational, cultural and social bonds between Egypt and Sudan, the final outcome of the bilateral relations is below the level of ambition, Abdel Halim mentioned.
There is a political will reflected by Sisi's visit as well as Bashir's anticipated visit to Cairo to make relations exemplary, said Abdel Halim.
The visit of Bashir to Cairo also comes after positive moves between the two countries like the opening of land crossings between the two countries for the first time guaranteeing a safe and cheap passage of Egyptian products to Sudan and on to the African countries, as well as Sudanese products to Egypt and on to other European countries. Social and cultural communication between the two countries have also become daily, Abdel Halim mentioned.
Opening the Occhett-Qustul land crossing is a very important positive development in the Egyptian-Sudanese relations because it represents the infrastructure for commercial and investment relations between both countries, said Abdel Halim. It should be followed by opening Arqeen crossing which would be Egypt's gateway to Cape Town in South Africa, said Abdel Halim.
Bashir will discuss during his visit to Cairo important regional issues like the situation in Libya as it influences both Egypt and Sudan, Abdel Halim mentioned.
A meeting for Libya's neighboring countries was recently held in Cairo and they issued a statement confirming the need for a peaceful comprehensive solution to the Libyan crisis and the need to renounce violence,
The next meeting will be held in Khartoum, he pointed out.
Bashir's visit will give space for discussing what Egypt and Sudan can provide for the Libyan people, Abdel Halim added.
Both presidents will discuss the establishment of a free trade zone between Egypt and Sudan and other initiatives in the cultural and educational fields, in addition to the subject of the four freedoms which is a very important issue that would permit Sudanese and Egyptian nationals to reside, own property, work and move freely between both countries, said Abdel Halim.
Relations between Cairo and Khartoum are now going on the right way and the visit of President al-Bashir to Cairo will be a major breakthrough in relations as Sisi's previous visit to Khartoum was historic and laid a solid foundation for trust between the two countries and the two leaderships, said Abdel Halim.
"We also foresee meetings of the joint higher committee between the two countries, which will be held before the end of this year in Cairo, and will be chaired by Prime Minister Ibrahim Mehleb and Vice Sudanese President Bakry Hassan Saleh," said Abdel Halim.
It will be preceded by ministerial meetings in Khartoum, headed by the foreign ministers of Egypt and Sudan after Bashir's visit to Cairo, he pointed out.
Abdel Halim expressed hope about the development of relations between Egypt and Sudan.
Abdel Halim added ecurity cooperation and coordination between the two countries are ongoing and were strengthened by the recent visit of Sudanese Defense Minister Abdel Rahim Mohamed Hussein to Cairo.
"We are pleased that Egypt recently banned a meeting of what is called the Sudanese opposition and this is an important development in the relations of the two countries and we officially conveyed to the Egyptian authorities appreciation to this matter, and affirmed that Sudan will never in turn be an arena for Egyptian opposition," said Abdel Halim.
Abdel Halim denied that Sudan backed Ethiopia's situation from the Grand Renaissance Dam.
Sudan believes that the Nile River should give room for cooperation rather than conflict and strife, and that a country's interests should not be achieved at the expense of another country, said Abdel Halim.
Edited translation from Al-Masry Al-Youm