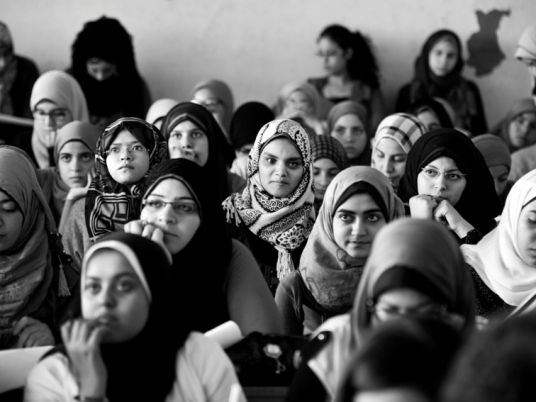 As Egyptian president Abdel-Fattah Al-sisi announced that 2017 is the "women's year", al-Azhar will issue a document detailing women's rights that were granted by the Holy Quran and the prophet's teaching to show the people the real, valid Sharia law and refute incorrect Fatwas that have become entrenched in the Egyptian community.
In a press statement, head of the Arab Women Organization Mervat al-Talawy said the document's release is a strong contribution from al-Azhar toward improving religious speech and changing incorrect societal and cultural norms. "I wanted to show the world how Islam guarantees women's rights compared to other religions and I was determined for al-Azhar to release a document that states all of that," Talawy told Egypt Independent.
She proposed the idea in 2012 to the grand imam of al-Azhar who welcomed it and assigned six al-Azhar scholars, along with one of her colleagues at the National Women's Council, to work on it; but it was suspended during the Muslim Brotherhood's reign in 2013. The document was on hold during former president Mohamed Morsi's regime when unacceptable principals and terms were put in place, which made Islam look radical, according to Talawy who refused to work on the document during that time.
"As we are in the women's year I renewed my call and Ahmed al-Tayyeb, the current grand imam, promised to prepare the document this year to make everything clear about any related women's issue in order to stop any offensive claims against the situation of women in Islam and to launch an official press conference to announce it to the public," she said.
Talawy said, during her work at the United Nations, that she was enraged when she reviewed several reports from Islamic countries like Bangladesh and Mauritania about inhumane legislation used in their version of Sharia law, which promotes a flawed image of Islam and may cause people to mistakenly believe that Islam incites violence against women.
"For instance in Bangladesh, if a husband is angry at his wife he may throw burning water at her and they alleged that this act is in accordance with Islam, but this is wrong. Our religion is peaceful and advocates women rights," Talawy said.
Talawy said the document will clarify all women's rights in Islam including financial independence and financial rights in inheritance. She explained that according to the Islamic inheritance jurisprudence, of the total inheritance a woman is entitled to inherit half the share of her male relatives receive but unfortunately traditions and customs have deprived her from this right, especially in rural areas where women are often prevented from inheriting any land or real estate and are given a miniscule amount of money instead.
Moreover, she said the document will shed light on the controversial issue of polygamy in Islam, as the Quran states clear conditions for this practice, though the phenomenon has spread widely in the last few years and many women promote it with no respect to the restrictions set by Islam.
Surah an-Nisa states: "And if you fear that you will not deal justly with the orphan girls, then marry those that please you of [other] women, two or three or four. But if you fear that you will not be just, then [marry only] one or those the right hand possesses. That is more suitable that you may not incline [to injustice]".
During Morsi's regime in 2013, the Council of Senior Scholars unanimously released a document on women, presenting seven main axes including the social and humane value of women, the legal personality, women and the family, women and education, women and work, women and personal security, and women's political participation .
However, Talawy said the 2013 document was very offensive, did not include the entirety of women's rights in Islam and does not have any relation to her proposed document.
Mohamed Mehana, adviser to the grand imam, told DotMasr new website that Al-Azhar along with several organizations concerned with women's rights have been working on the document for several years to clarify the rights that were preserved by Islam and to confirm the equality between women and men, whether it be personal or societal status.
He moreover confirmed that the document will cover women's right in education, work, personal security, social responsibility and leading public roles in the country. Mehana pointed out that the grand imam has decided to launch a global conference about women's rights during which he will announce the document.