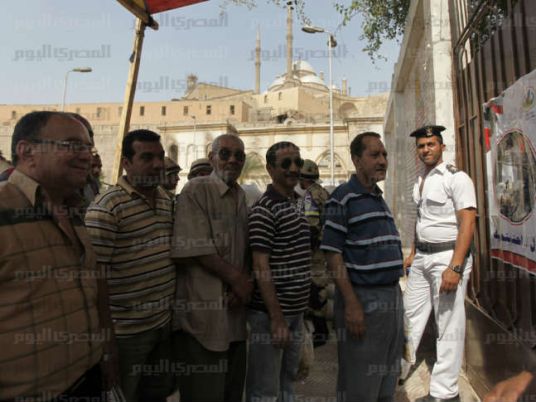 Tuesday marks the second day of voting in the Egyptian presidential elections where more 53 million eligible voters can cast their ballots in one of 14,000 stations across the republic to choose the country's next president.
Contestants are former defense minister Abdel Fattah al-Sisi and liberal politician Hamdeen Sabbahi.
The Muslim Brotherhood has publicly vowed to disrupt the elections via peaceful means, while other anti-governments groups have vowed to carry out disturbances using violence.
The following are live updates of the presidential elections:
3:30pm
Polling stations in Maadi were virtually empty, with no lines of voters as few voters were present to cast their ballots.
Military and police personnel secured polling stations in the districts of Maadi and Basateen to prevent violations.
Clashes erupted between supporters of presidential hopefuls Hamdeen Sabbahi and Abdel Fattah al-Sisi. Security intervened and ended the clashes.
3:10pm
Verbal quarrels erupted on Tuesday between supporters of presidential hopefuls Hamdeen Sabbahi and Abdel Fattah al- Sisi as supporters of the latter wearing outfits with motto of his campaign on passed before a polling station in Fayoum.
Sabbahi supporters argued this was violating to elections rules. Security troops dispersed supporters of the two candidates
1:30pm
Major General Wageeh Maamoun, head of Shalateen City, said high turnout was witnessed at polling stations in areas of Halayeb, Shalateen and abu Ramad, south of Red Sea. Buses and vehicles shuttled voters from villages to polling stations.
Maamoun said vehicles will continue to transfer voters until end of balloting process.
Voting continued normally in Monufiya. Turnout was weak in the morning as temperature was high. Security troops distributed water bottles among voters.
Major General Wahid Tawfiq, commander of the military central command, inspected polling stations at the governorate. International observers inspected several polling stations and balloting process.
Police and military personnel were seen before the polling stations. Barriers were located outside the stations as police patrols were patrolling the street.
The electoral campaign of presidential hopeful Abdel Fattah al-Sisi in Menofiya slammed the Nour Party for not rallying enough people, saying its participation was weak and inappropriate compared to its representation within the society.
In other news, the African Union visited a polling station in Abdeen district to follow up on the voting process. Calm prevailed at polling stations of low turnout.
1:00pm
Low turnout was seen in South Sinai governorate. Many voters from other parts of Egypt who work locally in the tourism field complained about the inability to vote locally.
Ahmed al-Ghobashy, head of tourism support coalition, blamed the low turnout on the inability of the tourism workers to vote locally.
Major General Adel Kassab, head of the governorate's operations center, said all polling stations were opened on time adding that no complaints were received over violations
Kassab also disclosed increase in turnout from 24 to 26 percent. Number of voters who cast their ballots from opening until 11am reached 22,526.
Major General Ahmed Fawzy, the governorate's secretary general, indicated a high turnout on the first day. He also added that buses transferred Bedouins to cast their ballots.
12:30pm
The numbers of voters has become smaller at polling stations of al-Sheikh Zayed and 6 October as the temperature increased. Some electricity generators arrived at polling stations to encounter power outage, especially as the counting process will start after 10pm. Vehicles loaded with drinking water were passing through streets of the city to deal with water outage.
Many international observers were seen in the second district of 6 October City. Crowds were seen at a polling station of the seventh district due to the late opening for thirty minutes.
Helicopters also flew over the polling stations in the city in an attempt to monitor any disruptions in the polls.
12:00pm
New Valley governorate experienced high voter turnout, coupled with a high security presence. Polling stations opened as scheduled at 9am. Vehicles with loud speakers drove around the streets, calling on citizens to cast their ballots. Major General Mohamed al-Ashmawy, the governor, inspected the process of voting at some polling stations. The main task force that follows on the elections process denied receiving complaints.
11:51am
Six polling stations in Kafr al-Sheikh governorate were opened late on Tuesday as judges were delayed, which provoked wrath of voters and forced them return back to home without voting. In a polling station in Desouk, the judge was late by 25 minutes. Voting was also delayed in three polling stations in al-Hamoul.
Voting continued as planned in Damietta at 259 polling stations, amid medium turnout. Polling stations of Bandar Damietta witnessed medium turnout since the morning. Turnout was different in the cities of Kafr Saad, al-Zarqa, Farescour, kafr al-Batteekh and new Damietta between limited and medium, amid strict security measures. In related news, security services arrested eight Muslim Brotherhood members for protesting without permission in Damietta and new Damietta. They were accused of inciting boycott of elections and rioting.
In Qalyubia, at villages of high presence of Muslim Brotherhood members, high turnout was seen on the second day. Low turnout was seen at cities of Toukh, Qaha and Banha. The areas of Shubra al-Kheima and al-Qanater saw relatively high voter turnout as dozens of voters headed to cast their ballots. Ten polling stations were late for 15 minutes as judges were delayed.
11:20am
The Salafi Nour Party in Daqahlia said it has procured 100 tok-toks (small three-wheeled motor vehicles) across the province to give free rides for voters heading to polling stations.
Mohamed al-Sharqawy, the party's secretary in Beni Ebeid. said the party remains committed to supporting Abdel Fattah al-Sisi for presidency, adding that Nour Party members would not leave their positions until polling centers close. He said the members will do their best to give assistance to voters outside polling units.
9:00am – 11:30am
As polls opened at 9am, a number of polling stations have seen a low turnout during the early hours.
Monufiya has seen a low turnout as polling stations opened on Tuesday, comparing to Monday when hundreds of voters queued outside polling stations.
Some polling centers in Daqahlia were completely empty. Women voters were remarkable present, though.
In Cairo, no queues were seen outside polling units in Matariya and Amiriya, with few voters arriving to cast their ballots.
Anadolu Agency also reported a low turnout in Giza, Alexandria and Qalyubiua, but said turnout in Aswan was higher than Monday, especially at the city of Daraw.
The campaign of candidate Abdel Fattah al-Sisi said seven polling stations opened later than scheduled at the Red Sea province.
Election officials at Alexandria, Port Said and Gharbiya put voter turnout at each govenorate at 20 percent, 30 percent and 32 percent respectively.