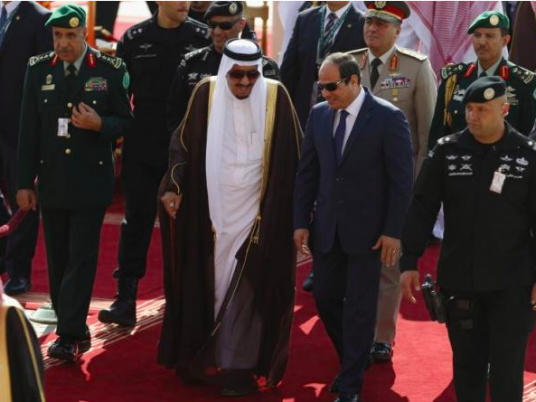 "We did not waive a single grain of sand. We gave [the Saudis] back what belongs to them," said President Abdel Fattah al-Sisi on the recent revision of maritime borders between Egypt and Saudi Arabia.
"We neither sell nor take anybody's land," Sisi added in a meeting on Wednesday with representatives of the parliament blocs, the National Council for Human Rights, the syndicates, the trade unions and journalists.
During the meeting, Sisi sought to iron out controversy surrounding the government's surprise declaration that the islands of Tiran and Sanafir — long believed to be under Egyptian sovereignty — in fact fall in Saudi waters. He indicated that the controversy that has been stirred up aims to drive Egypt to the point of "national suicide".

Sisi said the controversy was being stirred up by "a group of people who consider themselves better than the rest of Egypt; who claim that their prayers, fasting and deeds are better than the rest." He condemned the complaints about the agreement as an attempt to sow distrust and suspicion among people.
Some view the president's comments to be an indirect reference to Islamist activism in Egypt.
He said the controversy is being stoked at a time when the country is plagued by distrust, suggesting that social media plays an active role in planting doubt and spreading rumors.
"The aim is to isolate the Egyptian state … and to cause problems between Egypt and countries close to us," Sisi stated.
He continued: "We have just achieved what should have taken 20 years. Counteractive [campaigns] are a waste of energy. I like to see people who are devoted to Egypt, as much as the next patriot. I want to see this devotion, but people need to be guided by me as to how and when to [show it]."
Sisi attributed the problem to a difference in perspective between individuals and the state on how to tackle the issue.
The recent revision of maritime borders between Egypt and Saudi Arabia was in accordance with a presidential decree issued 26 years ago, he insisted, adding that the UN was notified of the presidential decree at the time.
Sisi criticized the ongoing controversy over Tiran and Sanafir, warning that it could harm relations with Saudi Arabia.
Drawing a parallel with the Renaissance Dam issue, which sparked a public reaction that was "not in our favor at all", the president told Egyptians that by resisting the agreement "you are harming your country."
He stressed that all the official documents examined proved that the two islands belong to Saudi Arabia.
"Rest assured, I consulted all the necessary authorities regarding the two islands," said the president, reiterating his awareness of the responsibility entrusted to him by Egypt in all matters, not only the islands.
Egypt has now revised its maritime borders with Cyprus and Saudi Arabia, with the goal of allowing Egypt to conduct mineral exploration in its territorial waters, Sisi said. He indicated that similar agreements are underway with Greece.
Edited translation from Al-Masry Al-Youm