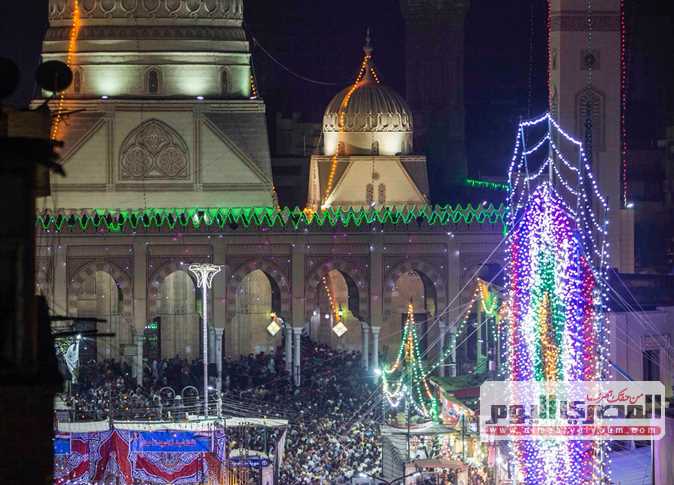 Thousands of Sufis and other people from across Egypt celebrated the birthday anniversary of one of Egypt's most famous Sufis, al-Sayyid al-Badawi, on Thursday in the courtyard of the Ahmadi Mosque and the streets of Tanta, Gharbiya.
African and Arab delegations were also present to participate. The celebration continued until the early hours of Friday.
Sufi chanting groups sang the most famous Sufi poems in the square. Visitors to the area of the celebration bought sweets and merchandise as they listened to the songs and recitations of Sufi chanter Shiekh Yassin Tohami and others inside the Ahmadi Mosque courtyard. The rich also distributed food to the needy and the poor.
A shop owner near the mosque, Salwa al-Sebai, said that Tanta is witnessing a great festive atmosphere and a boom in goods thanks to the influx of thousands of people across the country to Tanta, making this an opportunity for shop owners to promote their products.
She added that businessmen and Sufi sheikhs buy large quantities of meat and candy to distribute to visitors, in addition to providing assistance to the needy. She expressed great pleasure with the increased numbers of visitors compared to last year.
The Minister of Religious Endowments Mohamad Mukhtar Gomaa and Egypt's Grand Mufti Shawki Allam performed Friday prayers at the Ahmadi Mosque at the end of the celebrations in the presence of the head of Sufi orders, the leader of the majority in the House of Representatives, some MPs and other security leaders in the governorate.
The security Directorate imposed a tight plan to protect visitors. Checkpoints were deployed in all the entrances of Tanta, and security authorities organized large-scale campaigns and deployed large numbers of secret police in the Ahmadi Mosque area.
Badawi is a great Sufi Sheikh descended from Hussein bin Ali bin Abi Talib. Born in the Moroccan city of Fes, he emigrated to Mecca with his family, and when he turned 38 years old he traveled to Iraq with his elder brother Hassan and returned after one year to Mecca.
Afterwards he decided to emigrate to Egypt, specifically to the city of Tanta, choosing it as the location to spread his order. He died on August 1276 in Tanta, at 79 years old.

Edited translation from Al-Masry Al-Youm