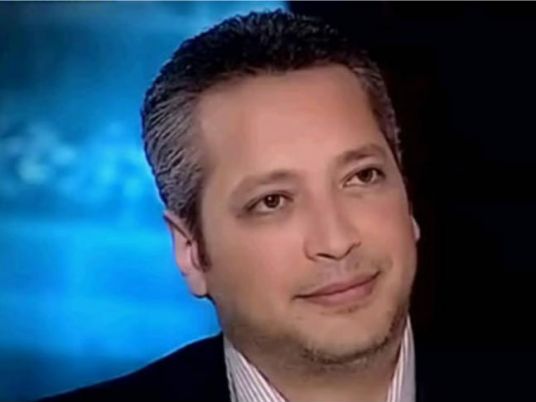 A widely-circulated video on social networks has shown talk show host Tamer Amin enduring a shower of cursing by an opponent to the Egyptian government during a London trip.
Amin, known as the majority of Egyptian private media hosts for his support for President Abdel Fattah al-Sisi, is seen sitting on the stairs of a store, with an unidentified girl next to him.
A man with an Egyptian accent stands in front of him uttering a barrage of nasty swearing at the TV presenter who would not respond.
"Look at yourself now! You are sitting down like a dog, so then why do you have such a big mouth on TV?" the man asked Amin.
In an episode of his show on Rotana Masriya last May, Amin said he was "satisfied with President Abdel Fattah al-Sisi's first year in office by 90 percent".
Pro-government celebrities have encountered similar instances during their foreign trips to countries that offer refuge to dissidents facing Sisi's crackdown on political opposition.
A delegation of actors accompanying Sisi during his visit to Germany in June were also followed by swearing opponents once they arrived at the airport as shown in similar amateur videos.
The video in Egyptian Arabic can be seen below:
Edited translation from Al-Masry Al-Youm